Mike Hoyser VP of training at Phone Ninjas offers your dealership virtual training using Zoom meetings.  Our virtual training is identical to the training we offer in person.
Your business will save many as there are no related travel expenses.  It's also much easier to offer training to new hires as we are routinely are offering monthly online sessions.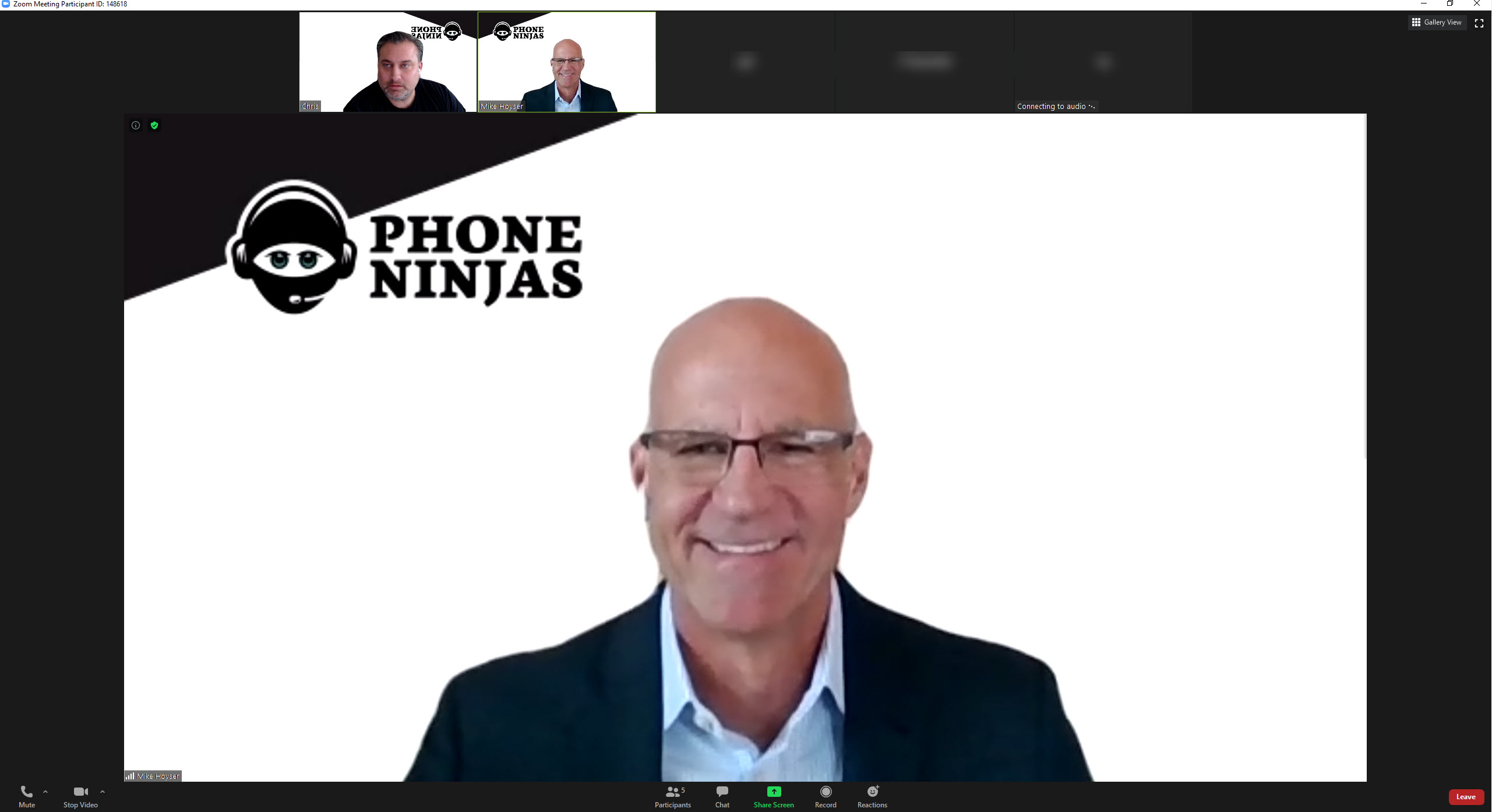 Here is a look at the training sessions:
SESSION 1 - BEING PROACTIVE
Being proactive in a post-March 2020 environment
Current trends that impact you
The customers perspective
Theory behind proper phone techniques
Proper preparation: tone, inflection, attitude, etiquette, professionalism, & empathy
SESSION 3 - PERFECT TECHNIQUE
Practice techniques – perfect practice makes perfect calls
Role play the Phone Ninjas word tracks
General objection handling techniques
SESSION 2 - INBOUND CALL PROCESS
Phone Ninjas 7-Step Inbound call Process: 
Greeting
Qualifying
Contact Information
Set the appointment/meeting
Objection handling inbound calls
Driving towards closure
Closure
SESSION 4 - OUTBOUND CALLS
Phone Ninjas 10-Step Outbound Call Process
Calling unsold prospects
Handling objections on outbound calls
Leaving an effective voicemail
Asking for referrals 
Sold customer follow-up
Relationship selling 
Social Media as it relates to the phones
Session Cost: $500 per 90-minute session (10 people per session)
The training regimen consists of four unique 90-minute sessions with a maximum of 10 attendees each. In the spirit of store (and phone) coverage, we recommend a two-session structure for the staff. This structured example (for up to a 20-person team) is $4,000. An example agenda is below.
Our virtual training will give your team the opportunity to hear how the word tracks may be used in a variety of scenarios. They'll learn how to make the word tracks their own and when to deploy each at the right moment. Phone Ninjas will teach proper techniques to effectively navigate calls through the current safe distancing environment.

Our goal is to convey the right message by always showing empathy, especially during these challenging times, but also to match your branding and maximize advertising efforts by setting more meetings that ultimately lead to more sales.
Monday Morning 
– 1st 10 people

Session 1
Being Proactive: 9am – 10:30am
Session 2
Inbound Calls: 11am – 12:30pm
Monday Afternoon 
– 2nd 10 people

Session 1
Being Proactive: 2pm – 3:30pm
Session 2
Inbound Calls: 4pm – 5:30pm
Tuesday Morning 
– 1st 10 people

Session 3
Perfect Technique: 9am – 10:30am
Session 4
Outbound Calls: 11am – 12:30pm
Tuesday Afternoon 
– 2nd 10 people

Session 3
Perfect Technique: 2pm – 3:30pm
Session 4
Outbound Calls: 4pm – 5:30pm