You spend money on advertising and that advertising generates leads. One of the more popular lead formats is a phone call to your business. Our average client is receiving roughly 300 prospective customer phone calls per month. If your business is appointing 25% of those shoppers, that's 75 appointments made.
Our most engaged clients are achieving an 80% appointment ratio which will result in 240 appointments made. The close ratio for appointments that show is 50% When you take your average profit and multiply that by your number of sold customers, it doesn't take long to realize just how important phone training can be to your business.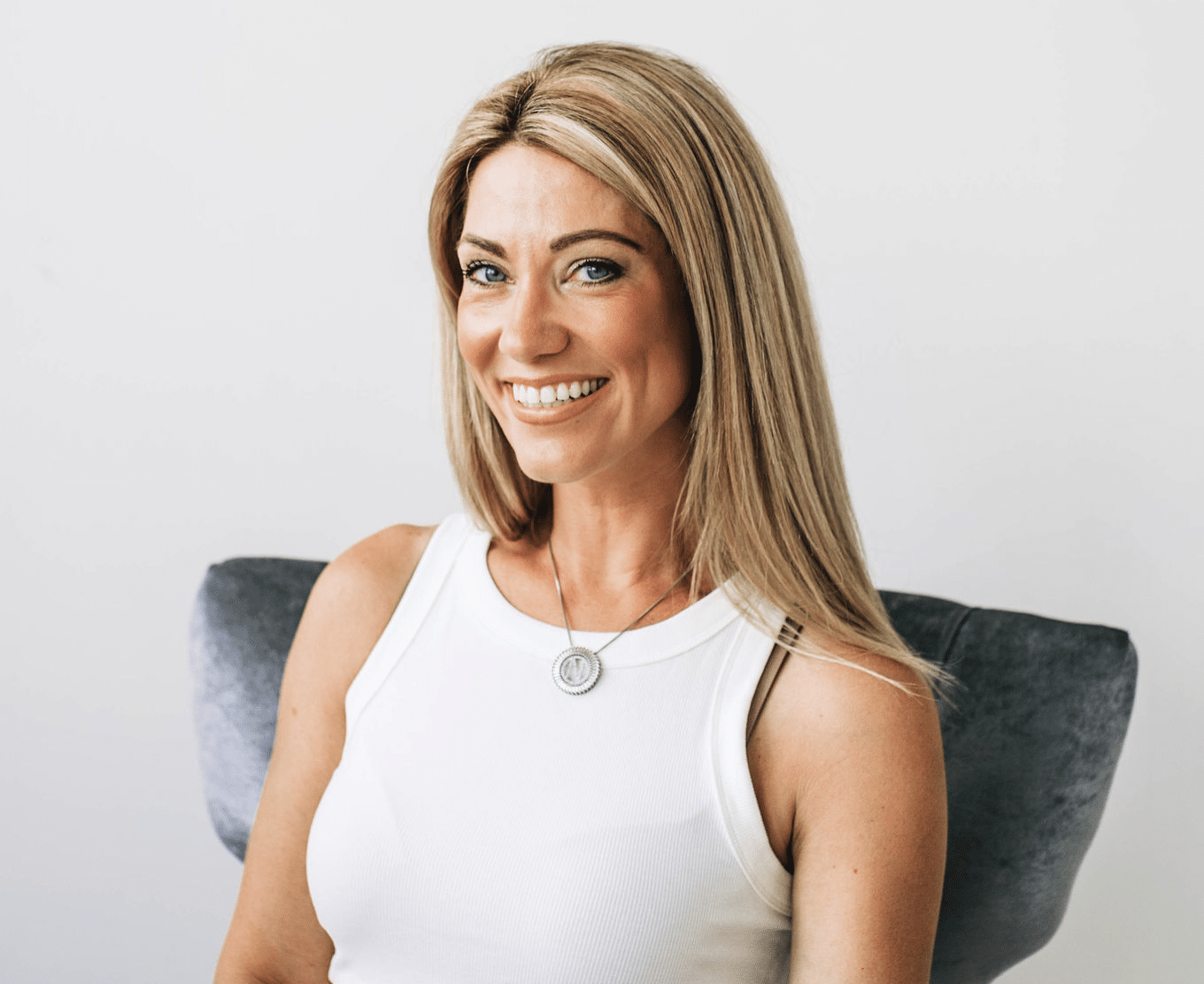 A one-time training class alone will not make your staff better! Reading from a script alone will not make your staff better! Yelling at your staff doesn't help the cause either! Consistent ongoing coaching is what will make your team better.
A one-time training class alone will not make your staff better! Reading from a script alone will not make your staff better! Yelling at your staff doesn't help the cause either! Consistent ongoing coaching is what will make your team better!
Staff members are required to watch 17 training videos that will teach the proper techniques for handling an inbound phone conversation. Below are those videos.

Upon completion of each video, staff members are required to take a test for final certification of that video. Below is an example.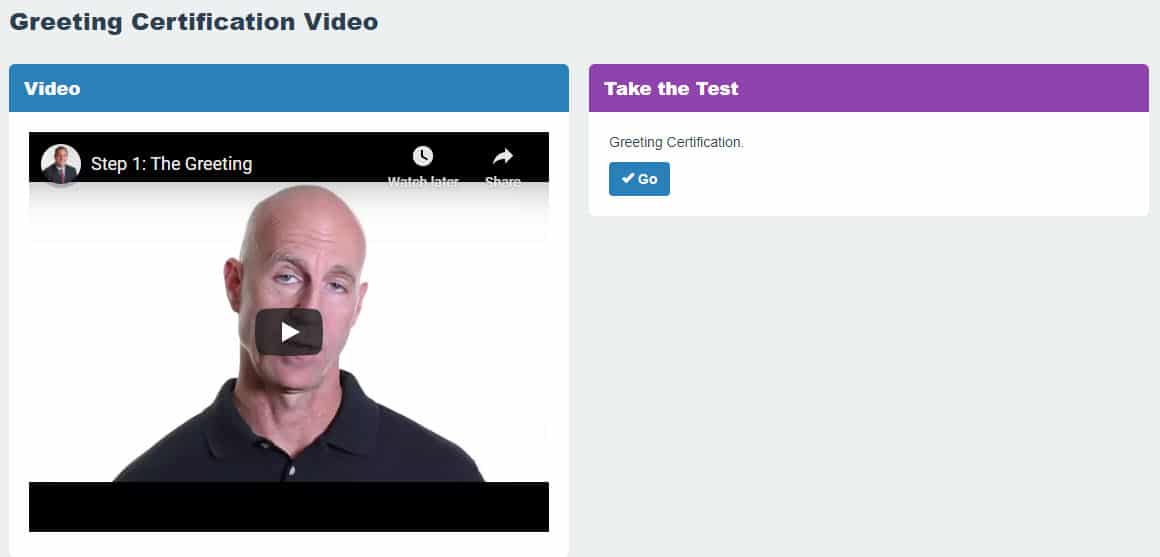 Your staff will start printing word tracks to be used in phone conversations as seen below.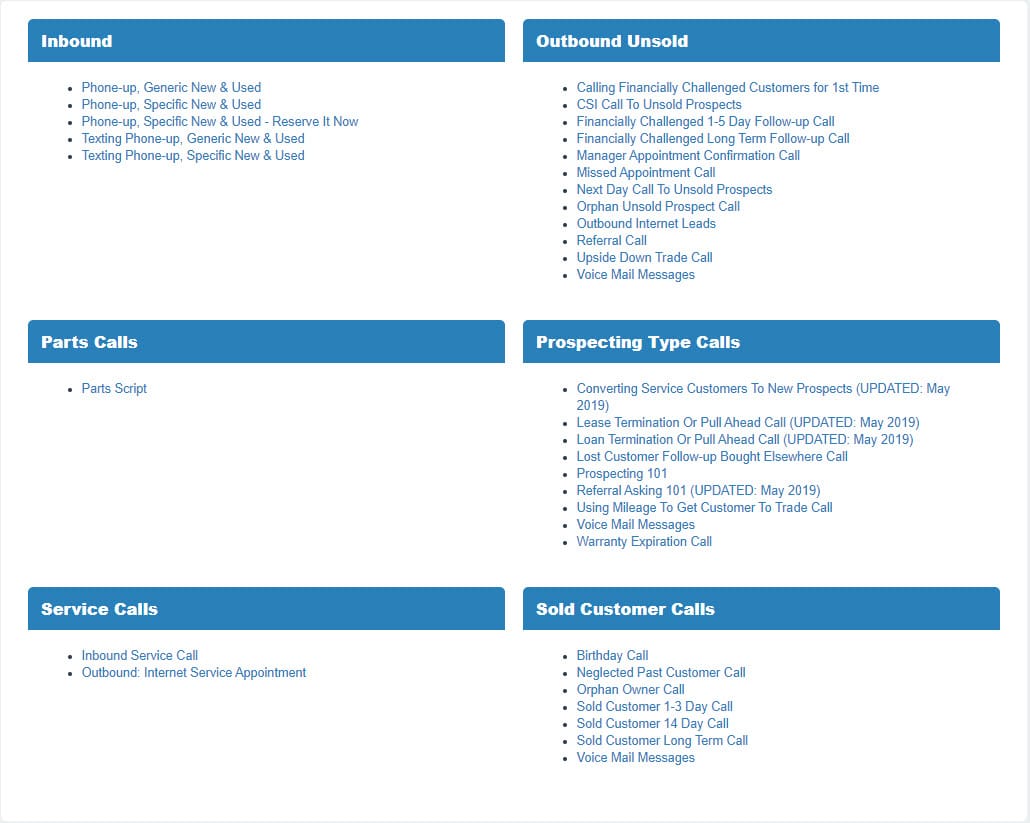 Our coaching staff will start listening to recorded sales calls from your call tracking provider.  As we listen to the calls, we are inserting coaching comments into the audio file as we find opportunities to coach or praise your staff.  Once completed, an email is sent to the person coached, as well as appropriate managers.  The staff member is required to listen to the coached sales call.  Upon completion, they are required to enter a secret code that was given at the end of the coaching session to prove they listened to the call.  Staff members are unable to fast forward the call.  Below is an example of a perfect coached call.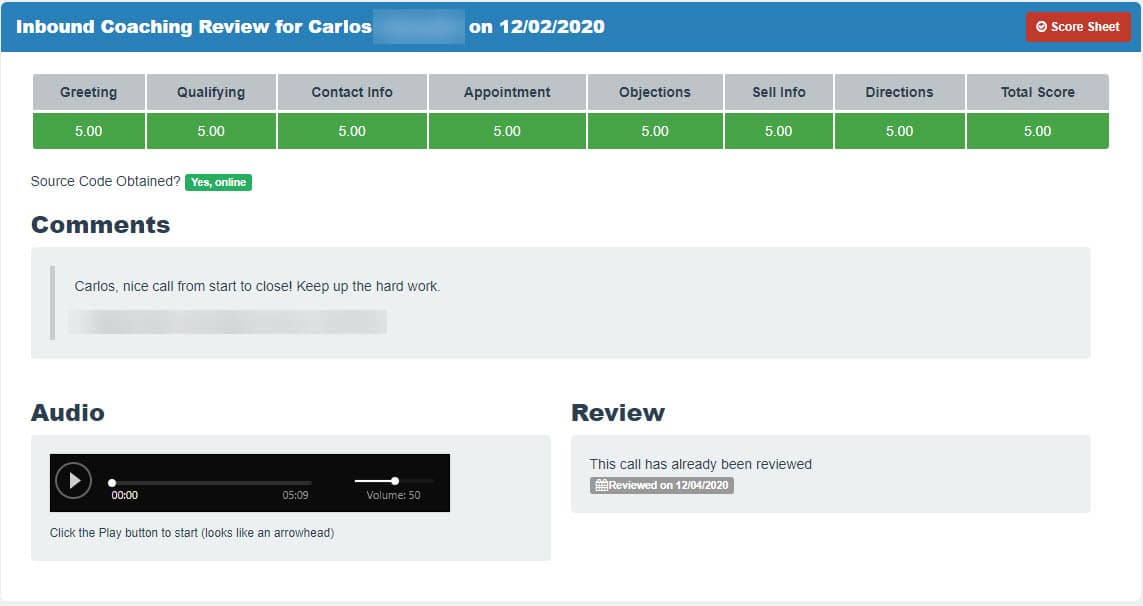 If an agent scores below a 2.5 in any category, they are required to return to videos to be retrained in that category.  Clients have the ability to raise certification levels as agents improve.
Managers are given a dashboard login to monitor and hold staff accountable. Below is a look at one of our top performing clients.  Notice this clients appointment percentage is 89%, which is common with our top performing clients.  Please note, this client does not use our platform to update shown appointments, or sold customers. The column to the right, that is highlighted, indicates the coaching sessions that have not been reviewed by staff members.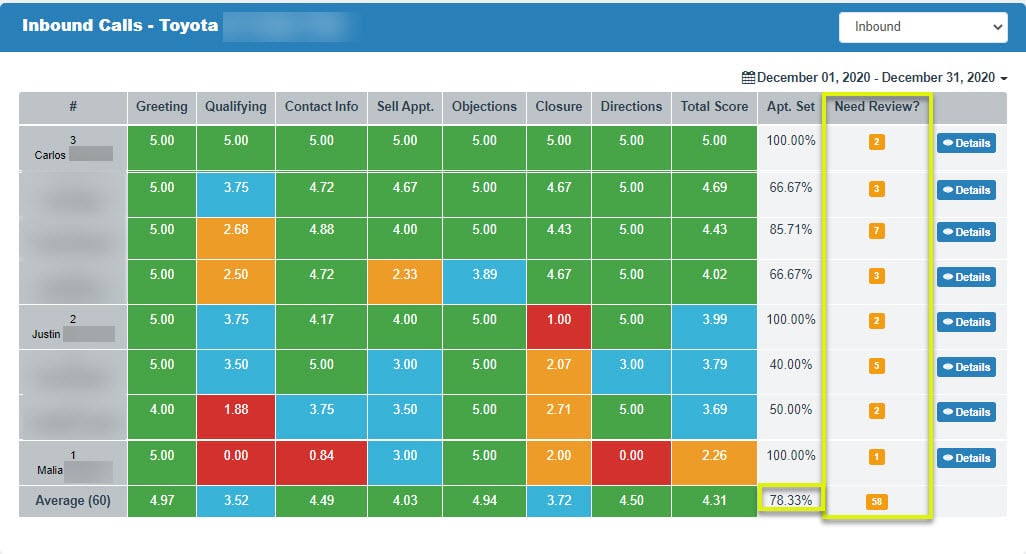 Managers must be champions of the process and hold staff accountable. Without management involvement, staff members will not take the training serious. Our top performing clients have been with us for many years and training is not an elective, it's a requirement.  If you're not familiar with the Hawthorne Effect it's a good example of why our process works.
Making more effective calls: Auto sales phone skills training
Is the phone call becoming a lost art? In the age of text and social media, can your car dealership employees still create a powerful sales pipeline with nothing but a landline?
For your company's sake, you can't afford to let your team's phone skills fade. Both inbound calls and outbound calls are still powerful sources of auto sales leads, so it's up to you to keep your representatives at their best.
The bad news: One-time training won't have the lasting auto sales effect you're seeking.
The good news: You have a much better option than isolated training sessions. You have phone skills coaching from Phone Ninjas.
Why your Dealership's reps need phone training coaching
An investment in phone skills helps your budget go further. 
When you spend money on marketing and advertising, a customer responding to those ads needs to contact your dealership. A curious shopper will often get in touch by calling the car dealership, or by using a website page to request a call.
Who will be there at your car dealership to take the inbound call or make the outbound one? What level of skills will they bring to the table?
The average car dealer Phone Ninjas works with receives 300 inbound phone calls a month from prospective customers. Convert one-quarter of those phone calls into leads, and you've gained 75 possible sales.
Phone Ninjas' most highly engaged clients have an 80% appointment rate on inbound calls. Rather than the 75 leads generated by a 25% rate, these dealerships have 240, all from the same number of phone calls. To add to the value, 50% of those appointments convert into closed car sales.
Training alone isn't enough 
Turning your dealership into one of those top-tier performers isn't impossible, but a one-time training engagement won't be enough to make the necessary difference. Instead, your reps need ongoing input from expert coaches, all based on real customer phone calls and grounded in best practices.
Properly applied, this coaching process can improve the whole culture of your sales personnel, giving them the confidence and skills they need to excel.
What the phone skills coaching process looks like
The beauty of Phone Ninjas salesperson coaching is that it goes beyond the initial training to promote retention, accountability and continuous improvement. Where other approaches might end with skills training, this is simply where our methodology begins.
The coaching process follows eight steps:
First,

your organization must commit

to consistent, long-term coaching instead of one-off training. Scripts alone won't help your team sell, and a single training session won't lead to lasting improvement, so this ongoing relationship is key for success.

Next, it's time to

train the team

on 17 separate techniques for handling phone conversations. These lessons are delivered by video.

Upon completing each of the 17 lessons, a salesperson takes an online test to

certify their skills

in that area.

Your team

prints the scripts

that will be used in phone conversations — these enforce consistency and make sure reps don't miss important information when dealing with a customer.

The Phone Ninjas expert coaching staff

listens to recorded sales calls

, reviewing rep performance based on their scripts. Coaches record their comments right into an audio file of the call in question, so staff members get an exact play-by-play of what they did.

If any area of a representative's customer service performance is notably lacking on a coached call, scoring a 2.5 or less on a five-point scale, that agent must

retrain in the affected skill.

Managers use a specialized dashboard to

monitor staff performance

and encourage accountability. Team leaders know in real time how their employees are doing in all areas of phone sales performance.

Leaders at your dealership can keep the program strong, and ensure its gains aren't lost, by

actively championing the process

. Seeing buy-in from management will help representatives take the training seriously.
There's even an extra piece of motivation for your staff members: Reps who score perfect 5.0s on their phone calls are entered into a drawing to win a trip to Hawaii, with one chosen every quarter. Of course, becoming a top-ranking auto salesperson is also its own reward.
The impact of high-quality phone skills 
Think of phone skills coaching like a gym membership for each salesperson. What your employees get out of it depends on what they put in. If they consistently apply themselves, guided by expert coaches and encouraged by supportive managers, they can reach their potential.
Phone Ninjas' auto dealership coaching strategy works best when it's not an option, but rather a mandatory and foundational part of the overall phone auto sales strategy.
At auto dealers where this is the case, every employee who needs phone skills is part of the program, gaining side by side and putting forward a united, professional and highly effective face.
The results at these dealerships speak for themselves.
Ready to see how our methods apply to your dealership? Contact us for a demo, a free phone analysis or a free mystery shop.
MOTIVATION
At Phone Ninjas, we help motivate your staff by giving away a free trip to Hawaii every quarter.  If your staff members score a perfect 5.0, they are entered in a drawing to win a trip to Hawaii.  To date, we have given away over 35 trips!
SUMMARY
Our process is like a gym membership, you get out of it what you put into it. You must do the exercises if you want to see improvement.  The only reason why clients ever cancel… because they can't get their staff members to follow the process.  Working at your business is not a democracy, it's a dictatorship!  If you want to prosper, make training mandatory with no exceptions.  Make examples of those not willing to improve!